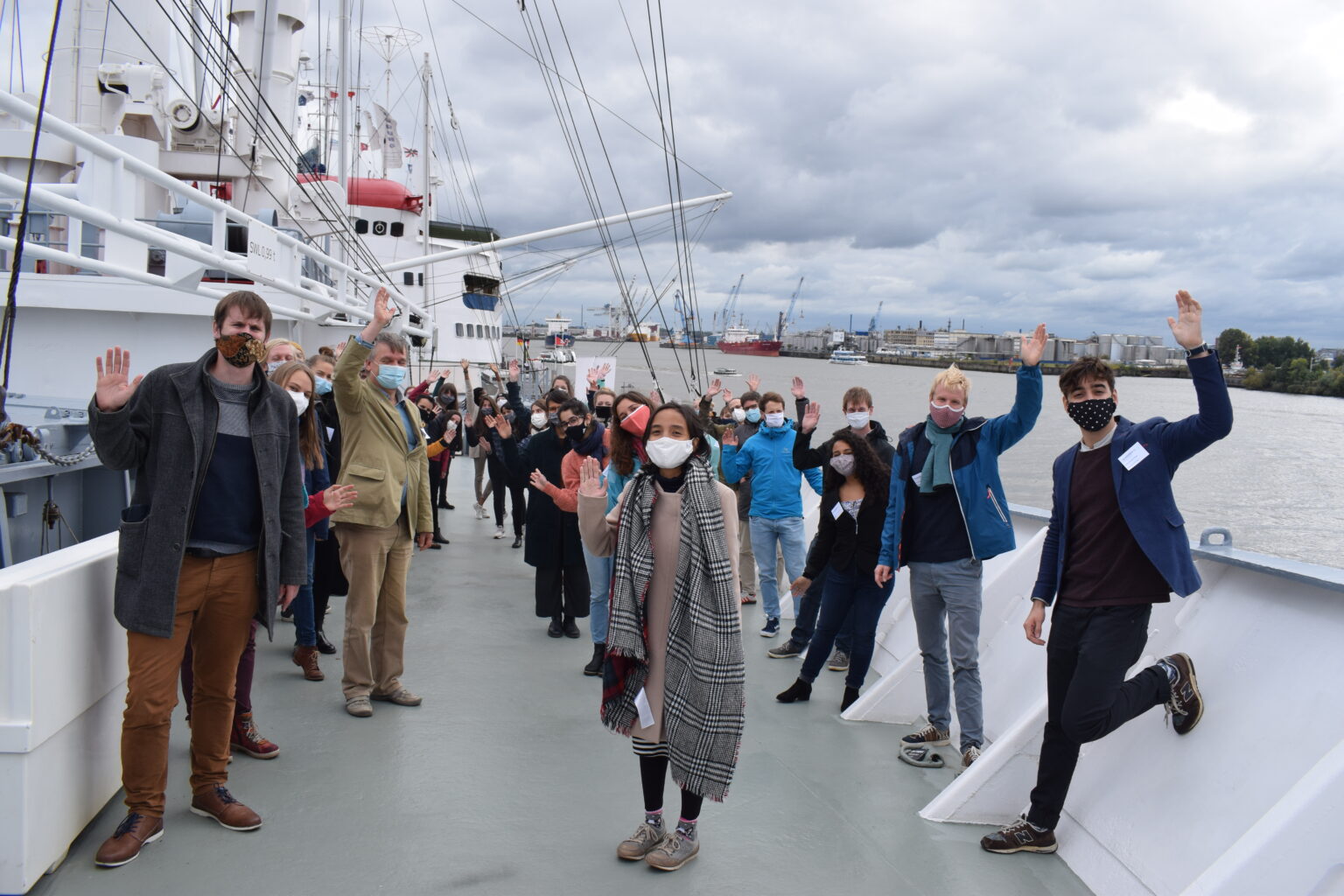 This year was an extra­or­di­na­ry year for ever­yo­ne all over the world. But for YOU­MA­RES spe­ci­fi­cal­ly, amid all uncer­tain­ties and risk, it was the first time we tran­si­tio­ned into a Hybrid event. Howe­ver, the­se adver­si­ties did not stop the YOU­MA­RES team from orga­ni­sing a suc­cess­ful hybrid con­fe­rence from 13 – 16th Octo­ber 2020. We mana­ged to bring tog­e­ther a diver­se audi­ence of 190 par­ti­ci­pants from about 70 insti­tu­tes span­ning over more than 20 coun­tries world­wi­de. Five con­ti­nents were well repre­sen­ted during the con­fe­rence, a gre­at mile­stone for YOU­MA­RES. This high­lights the impor­t­ance of tech­no­lo­gy for con­nec­ting young sci­en­tists and experts around the world. The pan­de­mic ope­ned our eyes to new tech­no­lo­gies and venues. Right by the port of Ham­burg, in a his­to­ric for­mer car­go ship tur­ned muse­um, The Cap San Die­go, a small phy­si­cal event took place from the evening of the 13th to 15th Octo­ber. Par­al­lel to this, our online plat­form Hopin was also burs­t­ing with exci­ting talks and work­shops throughout the day whe­re the audi­ence also got to fol­low the phy­si­cal event live from the com­fort of their own homes and offices.
YOU­MA­RES 2020 con­sis­ted of 9 ses­si­ons (8 the­med ses­si­ons and one inter­di­sci­pli­na­ry ses­si­on). In addi­ti­on, we had 5 work­shops hos­ted by experts and young care­er sci­en­tists offe­ring advice on dif­fe­rent skills. Our par­ti­ci­pants span­ned from Bache­lor stu­dents to ear­ly care­er post­doc­to­ral rese­ar­chers. I addi­ti­on, several pro­fes­sors and experts in indus­try, mari­ne poli­cy and social sci­en­ces were part of the con­fe­rence. In its ent­i­re­ty YOU­MA­RES 2020 lived up to this year's the­me "JOI­NING FOR­CES". This year we wan­ted to focus on tra­di­tio­nal fiel­ds of mari­ne sci­ence but also an inte­gra­ti­on of other fiel­ds such as machi­ne lear­ning and social sci­ence and tech­no­lo­gy fiel­ds. True to this year's the­me, YOU­MA­RES 2020 brought the rea­li­sa­ti­on that young care­er sci­en­tists are rising up to the chal­len­ge to be inter and mul­ti­di­sci­pli­na­ry in their rese­arch and ide­as. A spe­cial high­light of this year was the ses­si­on from the Mari­ti­me clus­ter – North Ger­ma­ny on care­er per­spec­ti­ves in the Mari­ti­me indus­try. In this ses­si­on, 5 estab­lis­hed experts in mari­ne sci­ence and mari­ti­me care­ers shared their pro­fes­sio­nal jour­ney, inclu­ding chal­len­ges and suc­ces­ses. Our audi­ence was able to ask for care­er advice direct­ly to our spea­kers in one on one brea­k­out sessions.
It was an incredi­ble expe­ri­ence to bring this event to a suc­cess­ful frui­ti­on. We are gra­te­ful to all our spon­sors and sup­por­ters for making YOU­MA­RES 2020 a success.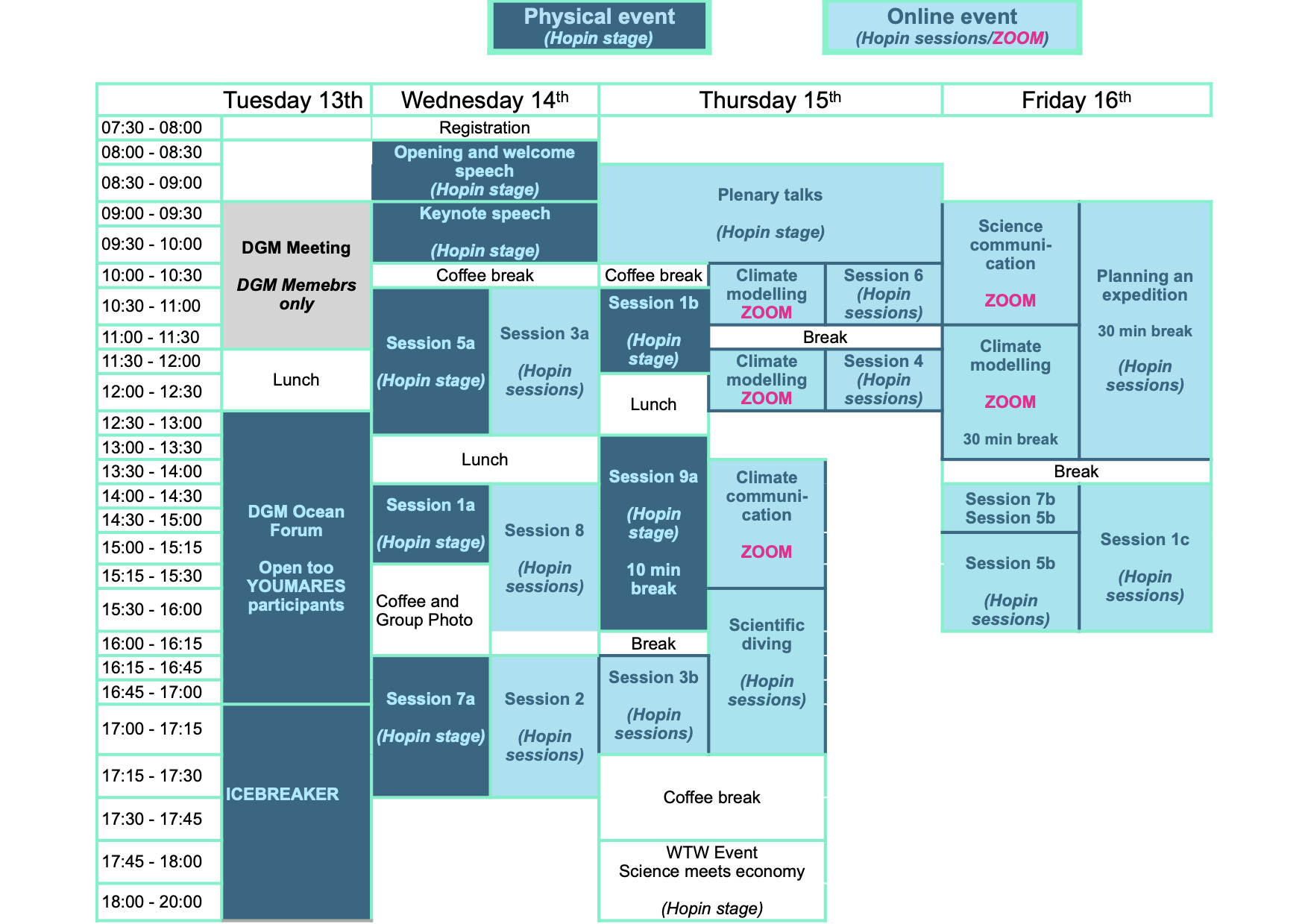 Over­view of YOU­MA­RES 2020 Sessions
Ses­si­on 1: The micro­scopic engi­nes of the oce­ans: role and stra­te­gies of mari­ne micro­bes in a chan­ging world
Hosts: Ale­jan­dra Eli­sa-Maga­ña, Belén Fran­co-Cis­ter­na (Uni­ver­si­ty of Sou­thern Denmark)
YOU­MA­RES Detail­ed Pro­gram – Physical
Ses­si­on 2: Asses­sing the real con­cen­tra­ti­ons of micro­plastic and their actu­al effects on mari­ne biota
Hosts: Lukas Nova­es Tump (Uni­ver­si­ty of Olden­burg, Ger­ma­ny), Mel Con­stant (LASIR, Unver­si­té Lil­le 1, France)
YOU­MA­RES Detail­ed Pro­gram – Physical
Ses­si­on 3a: Coral res­to­ra­ti­on & mari­ne conservation
Hosts: Sarah Abdel­ha­mid, Vic­to­ria Huk (Uni­ver­si­ty of Ros­tock, Germany)
YOU­MA­RES Detail­ed Pro­gram – Physical
Ses­si­on 4: Fjord sys­tems: Eco­lo­gy, ben­t­ho-pela­gic cou­pling, and anthro­po­ge­nic impacts
Hosts : Tho­mas Her­an, Sant­ia­go Pine­da (Alfred Weg­ner Insti­tu­te, Germany)
Ses­si­on 5a: How do mari­ne key spe­ci­es respond to a rapidly chan­ging environment?
Hosts: Jan Phil­lip Gei­ßel (IMBRE­Sea, Belgium)
Ses­si­on 6: Extrac­ting non-rene­wa­ble resour­ces from the oce­ans: chal­len­ges and oppor­tu­nities from the per­spec­ti­ve of social acceptance
Host: Roald Lee­u­we­rik (Leib­niz ZMT, Germany)
Ses­si­on 7: Machi­ne lear­ning in the mari­ne sci­en­ces: oppor­tu­nities and challenges
Hosts: David Green­berg, Moritz Mathis (Helm­holtz Cent­re Geest­hacht, Germany)
Ses­si­on 8: Let's talk busi­ness – care­er per­spec­ti­ves for sci­en­tists in the mari­ti­me industry
Hosts: Lau­ra Eisen­blatt (Mari­ti­me Clus­ter – Schleswig-Holstein)
YOU­MA­RES Detail­ed Pro­gram – Physical
Open ses­si­on: Inter­di­sci­pli­na­ry topics
Hosts: YOU­MA­RES ORG Team