Bet­ween Space and the seaf­loor – Aqua vita est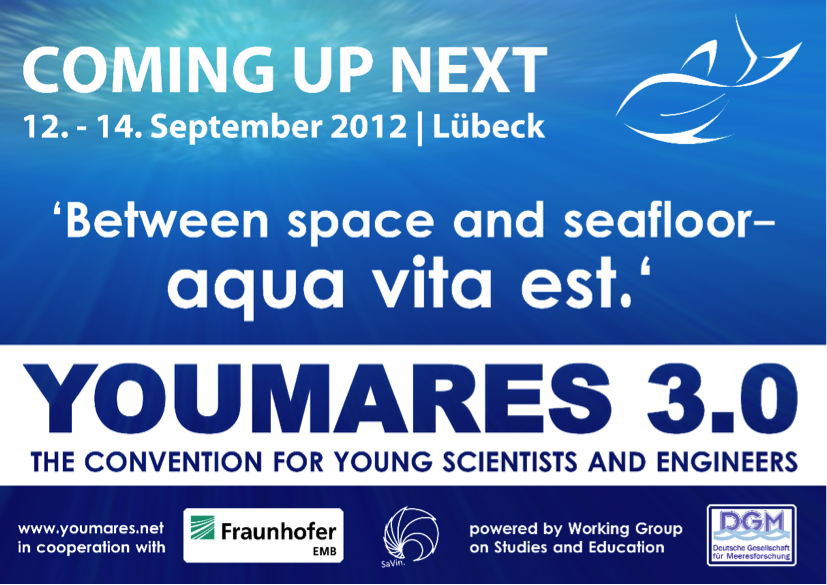 12. – 14. SEP­TEM­BER 2012, LÜBECK
YOU­MA­RES 3 was orga­ni­zed in clo­se coope­ra­ti­on with EMB Fraun­ho­fer Rese­arch Insti­tu­ti­on for Mari­ne Bio­tech­no­lo­gy and its local head Prof. Dr. Char­li Kru­se. The Insti­tu­te con­cen­tra­tes on fiel­ds of cel­lu­lar tech­no­lo­gy, aqua­tic bio­tech­no­lo­gy and cell-based medi­cal techniques.
We have been loo­king hard for a decent venue to host this spe­cial event and WE HAVE FOUND IT!
The Han­sea­tic City of Lue­beck is, situa­ted at the river Tra­ve, Germany's gate to the Bal­tic. The Brick Stone Gothic gives the Queen of the Han­se a uni­que flair of mari­ti­me moder­ni­ty with his­to­ri­cal memo­ry. Nie­der­eg­ger Mar­zi­pan is pro­bab­ly as well known as Tho­mas Mann's first novel "Bud­den­brooks".
In 2012 Lue­beck is cele­bra­ting having been elec­ted as the Ger­man "City of Sci­ence". http://www.hanse-trifft-humboldt.de (only in German)
The con­fe­rence venue was at "Die Gemein­nüt­zi­ge" in down-town Lübeck and we were hap­py to wel­co­me 170 par­ti­ci­pants to this event and lis­ten to 10 ses­si­ons and various workshops.
YOU­MA­RES 3 Sessions:
Ali­ens from inner space: Whe­re do they come from, what do they do an how can we stop them?
Bet­ween Sea and Anthro­po­s­phe­re: Mari­ne socio-eco­no­mics in an era of glo­bal change
Envi­ron­men­tal chan­ges in the pela­gic: con­se­quen­ces and accli­ma­tiz­a­ti­on stra­te­gies – from plank­ton to fish
Inte­gra­ted Aquacul­tu­re – Poly­cul­tu­re of plants, inver­te­bra­tes and finfish
Oce­an Model­ling: Theo­ry & Concepts
Phy­si­cal Ocea­no­gra­phy – Bet­ween Mea­su­ring and Modelling
Reefs from shal­low to deep – envi­ron­men­tal cons­traints and perspective
The aqua­tic cli­ma­te archi­ve: tracking the rise and fall of anci­ent civilizations.
Les­sons from the past, for the pre­sent and the future?
Water resour­ces in coas­tal are­as – scar­ci­ty and manage­ment implications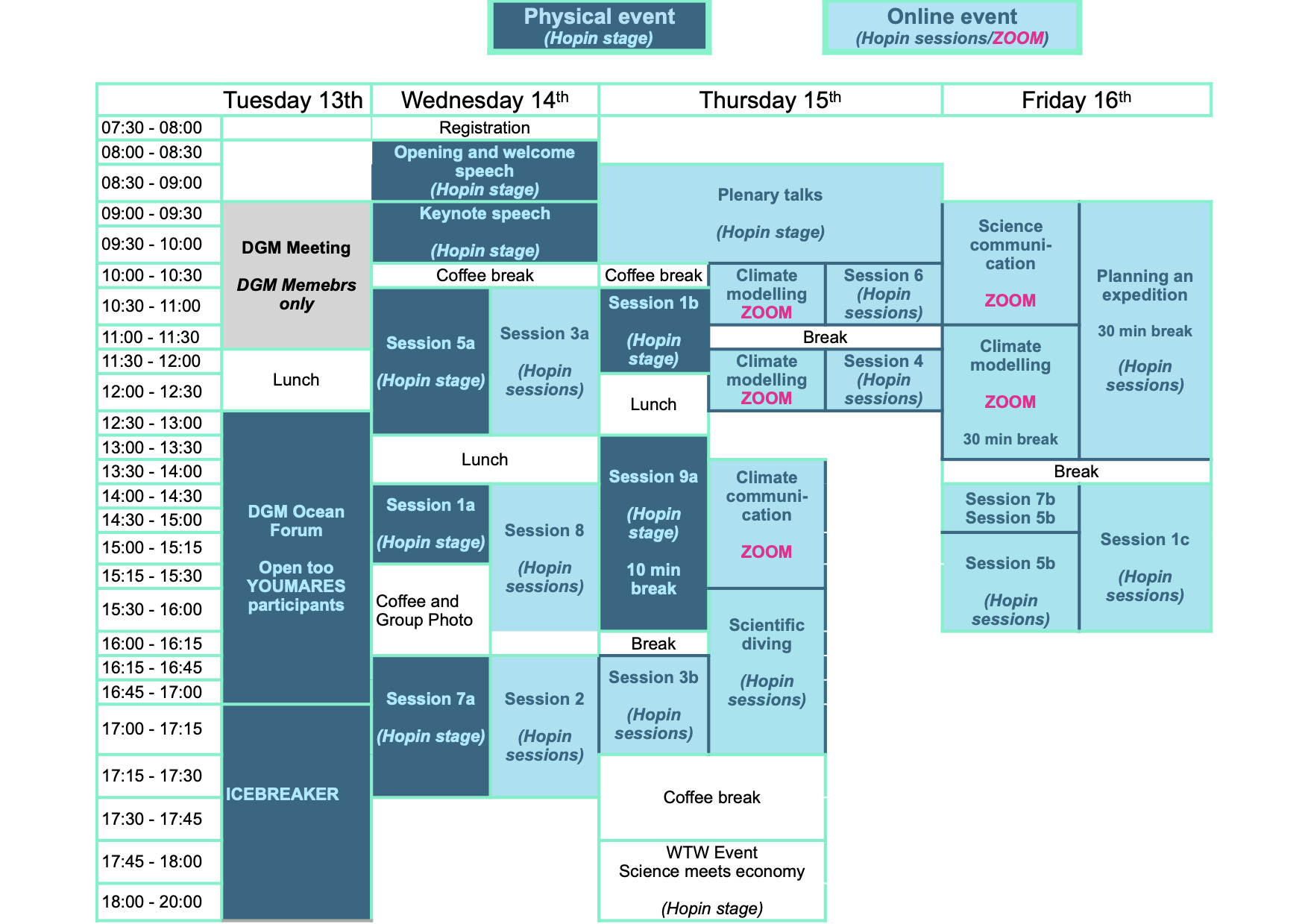 Over­view of YOU­MA­RES 2020 Sessions
Ses­si­on 1: The micro­scopic engi­nes of the oce­ans: role and stra­te­gies of mari­ne micro­bes in a chan­ging world
Hosts: Ale­jan­dra Eli­sa-Maga­ña, Belén Fran­co-Cis­ter­na (Uni­ver­si­ty of Sou­thern Denmark)
YOU­MA­RES Detail­ed Pro­gram – Physical
Ses­si­on 2: Asses­sing the real con­cen­tra­ti­ons of micro­plastic and their actu­al effects on mari­ne biota
Hosts: Lukas Nova­es Tump (Uni­ver­si­ty of Olden­burg, Ger­ma­ny), Mel Con­stant (LASIR, Unver­si­té Lil­le 1, France)
YOU­MA­RES Detail­ed Pro­gram – Physical
Ses­si­on 3a: Coral res­to­ra­ti­on & mari­ne conservation
Hosts: Sarah Abdel­ha­mid, Vic­to­ria Huk (Uni­ver­si­ty of Ros­tock, Germany)
YOU­MA­RES Detail­ed Pro­gram – Physical
Ses­si­on 4: Fjord sys­tems: Eco­lo­gy, ben­t­ho-pela­gic cou­pling, and anthro­po­ge­nic impacts
Hosts : Tho­mas Her­an, Sant­ia­go Pine­da (Alfred Weg­ner Insti­tu­te, Germany)
Ses­si­on 5a: How do mari­ne key spe­ci­es respond to a rapidly chan­ging environment?
Hosts: Jan Phil­lip Gei­ßel (IMBRE­Sea, Belgium)
Ses­si­on 6: Extrac­ting non-rene­wa­ble resour­ces from the oce­ans: chal­len­ges and oppor­tu­nities from the per­spec­ti­ve of social acceptance
Host: Roald Lee­u­we­rik (Leib­niz ZMT, Germany)
Ses­si­on 7: Machi­ne lear­ning in the mari­ne sci­en­ces: oppor­tu­nities and challenges
Hosts: David Green­berg, Moritz Mathis (Helm­holtz Cent­re Geest­hacht, Germany)
Ses­si­on 8: Let's talk busi­ness – care­er per­spec­ti­ves for sci­en­tists in the mari­ti­me industry
Hosts: Lau­ra Eisen­blatt (Mari­ti­me Clus­ter – Schleswig-Holstein)
YOU­MA­RES Detail­ed Pro­gram – Physical
Open ses­si­on: Inter­di­sci­pli­na­ry topics
Hosts: YOU­MA­RES ORG Team