Oce­an across bounda­ries: Lear­ning from each other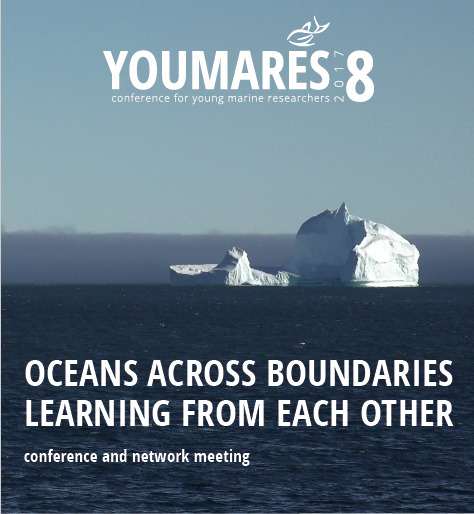 From 13 to 15 Sep­tem­ber, the YOU­MA­RES 8 con­fe­rence was guest at the Uni­ver­si­ty of Kiel and the GEO­MAR Helm­holtz Cent­re for Oce­an Rese­arch Kiel.
In total about 180 young mari­ne rese­ar­chers from wit­hin Euro­pe and over­seas met to par­ti­ci­pa­te over 90 oral and about 25 pos­ter pre­sen­ta­ti­ons which were topi­cal­ly orga­ni­zed in 15 sci­en­ti­fic ses­si­ons. Thus, this year's YOU­MA­RES was the big­gest edi­ti­on of this seri­es so far.
We were gra­te­ful to wel­co­me so many par­ti­ci­pants to YOU­MA­RES 8 at the Uni­ver­si­ty of Kiel. We hope that all of you enjoy­ed inte­res­ting talks, infor­ma­ti­ve and hel­pful work­shops and got to know a lot of other nice people
We were also very hap­py that we were able to meet at Kiel Uni­ver­si­ty, place of the Clus­ter of Excel­lence "The Future Oce­an" with orga­niz­a­tio­nal sup­port of the "Inte­gra­ted School of Oce­an Sci­en­ces" (ISOS). And as usual­ly, we meet for an ice­brea­ker event on the first evening: Wed­nes­day, 13th Sep­tem­ber 2017 at GEOMAR.
YOU­MA­RES 8 was pre­ce­ded by the annu­al mee­ting of the Ger­man Socie­ty of Mari­ne Rese­arch (DGM) and the DGM-Forum. The ice­brea­ker, which was as usu­al a shared event bet­ween the par­ti­ci­pants of the DGM-Forum and the par­ti­ci­pants of the YOU­MA­RES, was held in the east shore buil­dings of the GEO­MAR Helm­holtz Cent­re for Oce­an Rese­arch. The last two days were full of sci­en­ti­fic ses­si­ons, work­shops, a pos­ter ses­si­on and key­note talks. For the lat­ter, we wel­co­med Prof Dr Mojib Latif (GEO­MAR Helm­holtz Cent­re for Oce­an Rese­arch, Kiel) who intrro­du­ced "The role of the oce­ans in cli­ma­te chan­ge" and Dr Clau­dia Hanf­land (Alfred Wege­ner Insti­tu­te, Helm­holtz Cent­re for Polar an Mari­ne Rese­arch, Bre­mer­ha­ven) who gave a talk on "Care­er plan­ning ‑Advice from the Cheshire Cat".
Awards
As a long time sup­por­ter, SPRIN­GER spon­so­red awards for the three best pos­ter and oral presentations:
Best Pos­ter:
Clea van de Ven & Titus Rom­bouts – A deep-sea spon­ge loop? Tra­cing car­bon and nitro­gen from DOM to spon­ges and detritivores
Mild­red John­son & Lau­ra Hen­nings – The effect of ele­va­ted and fluc­tua­ting pCO2 con­cen­tra­ti­ons on the growth of cal­ci­fy­ing mari­ne epibionts
Enri­co Armel­lo­ni – Embryo­nic onto­ge­ny of upper beak in Octo­pus vulgaris
Best Talk:
Nora-Char­lot­te Pau­li – Fouling and degra­dati­on of plastic bags – an in situ experiment
Sara Doo­litt­le-Lla­nos – Plastic as a vec­tor for mari­ne inva­si­ve spe­ci­es in the Gala­pa­gos archi­pe­la­go, Ecuador
Maha Czie­siel­ski – Inves­ti­ga­ting tran­scrip­to­me and pro­teo­me heat stress respon­se of the cni­da­ri­an model orga­nism Exaip­ta­sia pallida
The win­ners were awar­ded book vou­chers from Sprin­ger Nature.
YOU­MA­RES 8 Sessions:
Sen­ti­nels of the Sea: Eco­lo­gy and Con­ser­va­ti­on of Mari­ne Top Predators
Ses­si­on chairs: Domi­nik A. Nachts­heim and Bri­git­te C. Heylen
Rea­ding the book of life – ‑omics as a uni­ver­sal tool across disciplines
Ses­si­on chairs: Jan D. Brü­wer and Hagen Buck-Wiese

Phy­si­cal pro­ces­ses in the tro­pi­cal and sub­tro­pi­cal oce­ans: Varia­bi­li­ty, impacts, and con­nec­tions to other com­pon­ents of the cli­ma­te system
Ses­si­on chairs: Tina Dip­pe and Mar­tin Krebs

Cepha­lo­pods: Life his­to­ries of evo­lu­ti­on and adap­t­ati­ons
Ses­si­on chairs: Fedor Lish­chen­ko and Richard Schwarz

Eco­sys­tems dyna­mics in a chan­ging world: regime shifts and resi­li­en­ce in mari­ne communities
Ses­si­on chairs: Camil­la Sguot­ti and Xochitl Cormon
The inter­play bet­ween mari­ne bio­di­ver­si­ty and eco­sys­tems func­tio­n­ing: pat­terns and mecha­nisms in a chan­ging world
Ses­si­on chairs: Fran­cis­co R. Bar­b­o­za, May­sa Ito and Mar­kus Franz

Oce­an optics and oce­an color remo­te sensing
Ses­si­on chairs: Veloi­sa Mas­ca­renhas, Yangyang Liu and The­re­se Keck

Polar eco­sys­tems in the age of cli­ma­te change
Ses­si­on chairs: Maciej Mań­ko and Katar­zy­na Walczyńska

The phy­sics of the Arc­tic and Sub­arc­tic oce­ans in a chan­ging climate
Ses­si­on chairs: Cami­la Cam­pos and Myri­el Horn
Phy­to­plank­ton in a chan­ging envi­ron­ment – adap­t­ati­on mecha­nisms and eco­lo­gi­cal surveys
Ses­si­on chairs: Jana Geu­er and Lau­ra Käse

How do they do it? – Under­stan­ding the suc­cess of mari­ne inva­si­ve species
Ses­si­on chairs: Jonas Gebur­zi and Mor­gan L. McCarthy

Coas­tal eco­sys­tem res­to­ra­ti­on – inno­va­tions for a bet­ter tomorrow
Ses­si­on chairs: Jana Carus and Mat­thi­as Goerres
Micro­plastics in aqua­tic habi­tats – envi­ron­men­tal con­cen­tra­ti­ons and consequences
Ses­si­on chairs: Thea Hamm, Clau­dia Lorenz and Sarah Piehl
Tro­pi­cal aqua­tic eco­sys­tems across time, space and disciplines
Ses­si­on chairs: Mona Ands­kog, Han­nah Earp, Nata­lie Prinz and Maha Cziesielski
Open Ses­si­on
Ses­si­on chair: Simon Jungblut
YOU­MA­RES Orga-Team
Dr. Vio­la Lie­bich, Simon Jung­blut, Dr. Maya Bode, Lena Heel, Thea Hamm, Ola Nour, Elham Kamy­ab, Veloi­sa Mas­ca­renhas, Jeo­li­ne Eze­kiel, Mara Wei­dung, Jan Brü­wer, Lisa Hent­schel, Olga Sazo­no­va, Doro­thee Hohen­see, Maral Khos­ravl, Timo­thy Tompson