From coast to deep sea: mul­tis­ca­le approa­ches to mari­ne sciences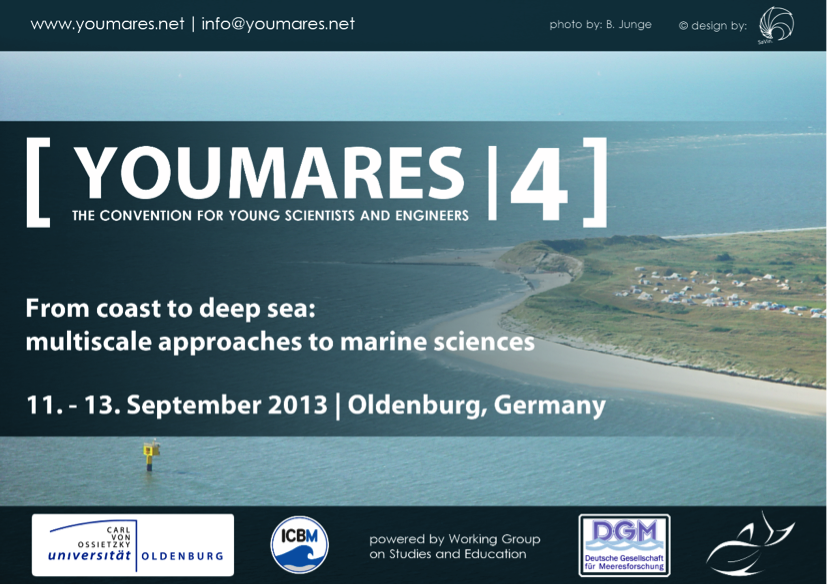 11. – 13. SEP­TEM­BER 2013, OLDENBURG
From 11 to 13 Sep­tem­ber 2013, the Uni­ver­si­ty of Olden­burg (Ger­ma­ny) was the sta­ge of the 4th edi­ti­on of YOU­MA­RES, a con­fe­rence aiming to pro­vi­de a plat­form for young mari­ti­me sci­en­tists. The con­fe­rence attrac­ted 150 atten­de­es and invol­ved 56 dif­fe­rent uni­ver­si­ties and institutions.
The dele­ga­tes main­ly came from Euro­pean coun­tries, inclu­ding the Nether­lands, the UK, Ita­ly, Spain, Aus­tria, Den­mark, Nor­way, Fin­land, Swe­den, Bra­zil, Fran­ce and Iran. A total of 53 pre­sen­ta­ti­ons and dis­cus­sions were held in 15 ses­si­ons grou­ped around the­mes like Mari­ne Plastic Pol­lu­ti­on: From Sources to Solu­ti­ons; What's up with Coral Reefs and Mari­ne Mea­su­re­ment Tech­no­lo­gies: Sci­ence and Engi­nee­ring stret­ching to Respon­ses of Mari­ne Fish to Mul­ti­ple Envir​onmental Stres­sors. In add​ition to the­se pre­sen­ta­ti­ons, a pos­ter pre­sen­ta­ti­on was posi­tio­ned hos­ting 35 pos­ters in the recep­ti­on hall. Orga­ni­ser Johan­na Wied­ling expres­sed her appre­cia­ti­on for the oral pre­sen­ta­ti­ons as the qua­li­ty was high. "The pre­sen­ters were main­ly Bache­lor and Mas­ter stu­dents and it was very moti­vat­ing to see that so many dif­fe­rent topics were addres­sed", she explained.
Awards
On the Fri­day night, awards for the best pos­ters and the best oral pre­sen­ta­ti­ons were pre­sen­ted during the clo­sing ceremony.
Best Pos­ters
Ramo­na Brun­ner – Ses­si­on 9 – Who bene­fits the most? – Pho­to­syn­the­tic respon­ses to light and nut­ri­ent enrichment.
Pia Keg­ler – Ses­si­on 7 – Stres­sing coral reefs – com­bi­ned effects of orga­nic pol­lut­ants and oce­an warming.
Astrid Böh­mer – Ses­si­on 10 – Respon­ses of the cold-water coral Des­mo­phyl­lum dian­thus to future CO2 concentrations.
Best Oral Presentations
Daan Mes – Ses­si­on 9 – Light har­ve­s­ting stra­te­gies of ben­thic cya­no­bac­te­ria on a coral reef on Curacao.
Megan Nowell – Ses­si­on 6 – Com­po­si­ti­on, con­fi­gu­ra­ti­on or com­ple­xi­ty: spa­ti­al metric to mana­ge dis­tur­bed seascapes.
Julia Hämer – Ses­si­on 6 – Upt­a­ke, Trans­port and Depo­si­ti­on of Micro­plastics in Mari­ne Isopods.
The win­ners were awar­ded book vou­chers and small gifts from Springer.
Regio­nal Keynotes
The event was ope­ned by key­note pre­sen­ta­ti­ons, which were all lin­ked to aspects of the regi­on and the Bal­tic area. Prof. Dr Ant­je Boël­ti­us (Joint Rese­arch Group for Deep-sea Eco­lo­gy and Tech­no­lo­gy, Ger­ma­ny) tal­ked about her expe­ri­ence with Arc­tic coring rese­arch and chal­len­ges the mel­ting ice cap poses to rese­arch. Oksa­na Udo­vyk (Uni­ver­si­ty of Stock­holm, Swe­den) pre­sen­ted risk approa­ches for che­mi­cal manage­ment in the Bal­tic. Che­mi­cals and their hand­ling can have important con­se­quen­ces on the eco­lo­gy of the seaf­loor and her rese­arch crea­tes a frame­work to hand­le it based on the REACH initia­ti­ve. Dr Jörn Schmidt (Chris­ti­an Albrechts Uni­ver­si­ty of Kiel, Ger­ma­ny) fol­lo­wed by sket­ching an eco­lo­gi­cal approach for fishe­ries manage­ment, which also has eco­no­mic advan­ta­ges. Par­ti­cu­lar­ly if fisher­men are rea­dy to make a small chan­ge, the advan­ta­ges can be significant.
Excur­si­ons
The dele­ga­tes were also given the oppor­tu­ni­ty to join one of the excur­si­ons. Two groups were able to take a trip on the rese­arch ves­sel Alde­ba­ran. The sai­ling yacht is actual­ly equip­ped as a TV stu­dio, faci­li­ta­ting the broad­cas­ting of rese­arch, thus wide­ning the audi­ence for the acti­vi­ties. Ano­t­her group was wel­co­med to have a tas­ter of ocea­no­gra­phic rese­arch on the rese­arch ves­sel Otz­um. Work­shops were held with the aut­hor Bern­hard Kegel and the­re was a work­shop on sci­en­ti­fic publishing.
YOU­MA­RES 4 Sessions
Dis­sol­ved Orga­nic Mat­ter (DOM) –small in size but lar­ge in impact: Basis of life in the world's ocean
Ses­si­on chairs: Seibt, Strat­mann and Stumm

Aqua­tic micro­or­ga­nisms: bet­ween pro­du­cers, con­su­mers and pathogens
Ses­si­on chairs: Gär­des, Schwie­der and Einsporn

Mari­ne plastic pol­lu­ti­on: from sources to solutions
Ses­si­on chairs: Beil­fuss and Wiedling

Impor­t­ance of coral reefs for coas­tal zones: ser­vices, thre­ats, pro­tec­tion strategies
Ses­si­on chairs: Wolf and Jessen

Fluc­tua­tions in cepha­lo­pod and jel­ly­fi­sh abundan­ces: rea­sons and poten­ti­al impacts on mari­ne ecosystems
Ses­si­on chairs: Cre­spi-Abril and Keller

Respon­ses of mari­ne fish to envi­ron­men­tal stressors
Ses­si­on chairs: Kreiss and Michael

The eco­sys­tem approach and bey­ond: mul­ti­di­sci­pli­na­ry sci­ence for sus­taina­bi­li­ty in fisheries
Ses­si­on chairs: Koch­alski, Schen­del and Romagnoni

Aquacul­tu­re: Fish feeds the world –but how?
Ses­si­on chairs: Stein­berg, Schae­fer and Meyer

How to inte­gra­te blue bio­tech­no­lo­gy in food indus­try and medicine
Ses­si­on chairs: Gebert and Luellwitz
Mari­ne mea­su­re­ment tech­no­lo­gies: Sci­ence and Engineering
Ses­si­on chairs: Gott­schall and Heckmann

Ope­ra­tio­nal Oceanography
Ses­si­on chairs: Holinde and Schulz

Methods and app­li­ca­ti­ons of oce­an remo­te sensing
Ses­si­on chair: Karimova

Coping with uncer­tain­ties in mari­ne sci­ence – from cri­sis manage­ment to the n
Ses­si­on chair: Udovyk

Mari­ne Habi­tat Map­ping: stret­ching the blue marb­le on a map
Ses­si­on chair: Caperucci

What's up with coral reefs?
Ses­si­on chairs: Den Haan and Brocke

YOU­MA­RES Orga-Team
Johan­na Wied­ling, Fran­zis­ka Preuß, Dani­el Rit­ter, Anne-Chris­tin Schulz, Fer­di­nand Esser, Lars Holinde, Marc Ein­sporn, Sebas­ti­an Rakers, Vera Golz, Lydia, Vin­cent Wilms, Sabri­na Kali­ta, Lie­sa von Essen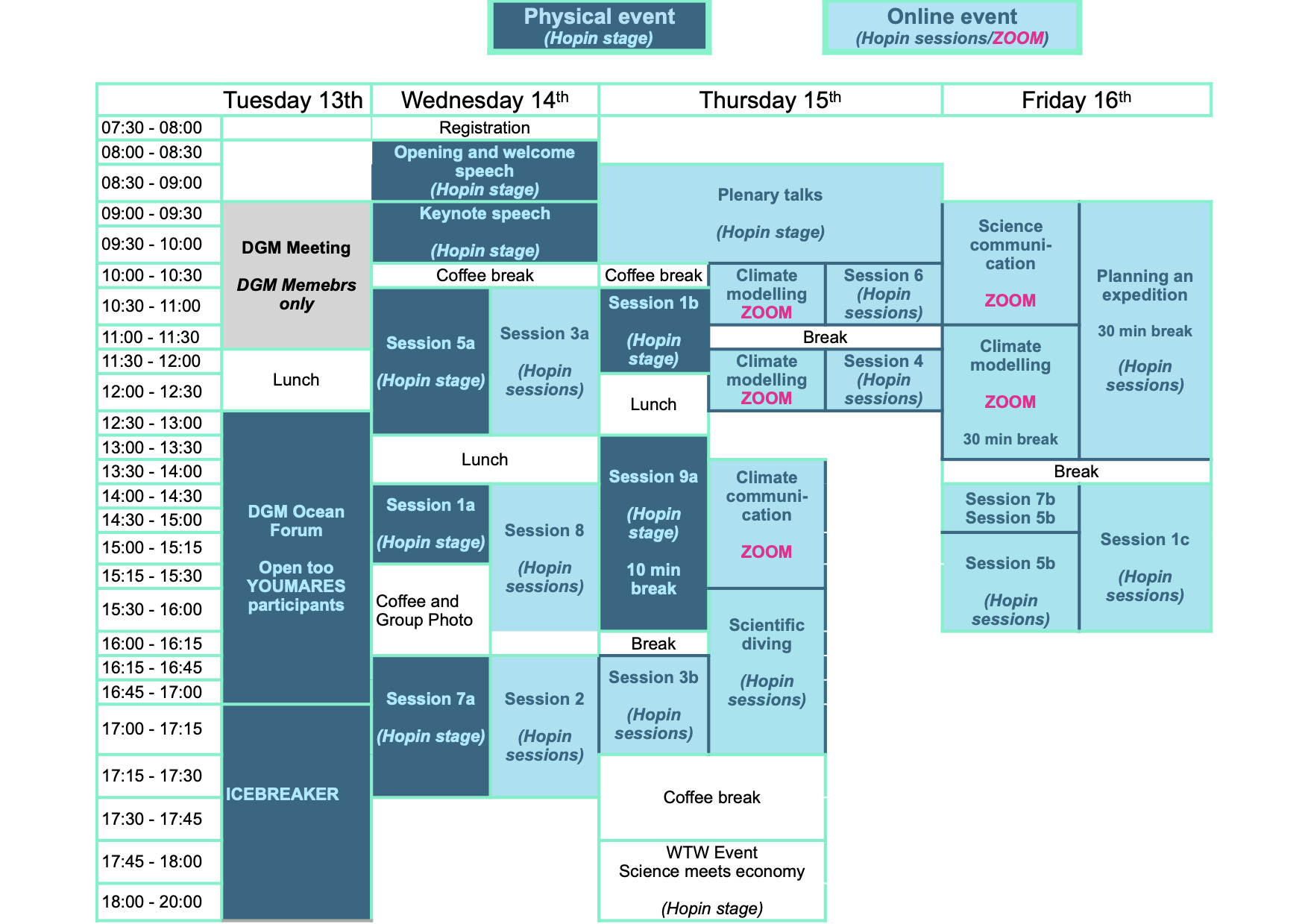 Over­view of YOU­MA­RES 2020 Sessions
Ses­si­on 1: The micro­scopic engi­nes of the oce­ans: role and stra­te­gies of mari­ne micro­bes in a chan­ging world
Hosts: Ale­jan­dra Eli­sa-Maga­ña, Belén Fran­co-Cis­ter­na (Uni­ver­si­ty of Sou­thern Denmark)
YOU­MA­RES Detail­ed Pro­gram – Physical
Ses­si­on 2: Asses­sing the real con­cen­tra­ti­ons of micro­plastic and their actu­al effects on mari­ne biota
Hosts: Lukas Nova­es Tump (Uni­ver­si­ty of Olden­burg, Ger­ma­ny), Mel Con­stant (LASIR, Unver­si­té Lil­le 1, France)
YOU­MA­RES Detail­ed Pro­gram – Physical
Ses­si­on 3a: Coral res­to­ra­ti­on & mari­ne conservation
Hosts: Sarah Abdel­ha­mid, Vic­to­ria Huk (Uni­ver­si­ty of Ros­tock, Germany)
YOU­MA­RES Detail­ed Pro­gram – Physical
Ses­si­on 4: Fjord sys­tems: Eco­lo­gy, ben­t­ho-pela­gic cou­pling, and anthro­po­ge­nic impacts
Hosts : Tho­mas Her­an, Sant­ia­go Pine­da (Alfred Weg­ner Insti­tu­te, Germany)
Ses­si­on 5a: How do mari­ne key spe­ci­es respond to a rapidly chan­ging environment?
Hosts: Jan Phil­lip Gei­ßel (IMBRE­Sea, Belgium)
Ses­si­on 6: Extrac­ting non-rene­wa­ble resour­ces from the oce­ans: chal­len­ges and oppor­tu­nities from the per­spec­ti­ve of social acceptance
Host: Roald Lee­u­we­rik (Leib­niz ZMT, Germany)
Ses­si­on 7: Machi­ne lear­ning in the mari­ne sci­en­ces: oppor­tu­nities and challenges
Hosts: David Green­berg, Moritz Mathis (Helm­holtz Cent­re Geest­hacht, Germany)
Ses­si­on 8: Let's talk busi­ness – care­er per­spec­ti­ves for sci­en­tists in the mari­ti­me industry
Hosts: Lau­ra Eisen­blatt (Mari­ti­me Clus­ter – Schleswig-Holstein)
YOU­MA­RES Detail­ed Pro­gram – Physical
Open ses­si­on: Inter­di­sci­pli­na­ry topics
Hosts: YOU­MA­RES ORG Team